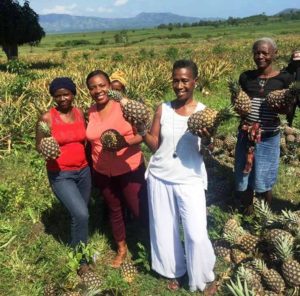 The Danielle Saint Lot Haiti Women's Foundation's vision is to fill the "missing middle" and advance women's economic empowerment.   Registered both in Haiti and in the U.S. under the 501 (c) (3) section of the IRS, the non-profit achieves this through the promotion of social entrepreneurship, leadership skills and professional development.  Additionally, the Foundation advocates for gender equity to advance social economic right for women in Haiti.  It equips small-medium sized enterprises to align with global trends and grow the creative economy.
The Danielle Saint Lot Haiti Women's Foundation, which was launched in March 2015 during Women's History Month has a track record of success in rural villages and has played a leading role in the local recovery response to Hurricane Matthew.  Foundation partners with local women's associations and NGOs to restore, restructure and revitalize agri-food value chains in affected areas and facilitate women farmers access to markets.
The Foundation has joined the global Clean Cooking momentum through its #SmartFanm movement which aims to empower women through innovation and technology, starting with Clean Energy.
It has received support from its Board of Directors and Advisory Council, The Raben Group, Small Axe Communications, Vital Voices Global Partnership, Bank of America, Open Society Foundation Haiti/FOKAL, Brupee Seeds, Konbit/USAID, CECI-UNITERRA, Michael Stars, Brunette Mérise, Nédjée Saint-Fleur Mauconduit, Cleve Mésidor, Justine Metz, Suzanne Lerner and many generous friends.